Integrated Intelligence Center (iic)
Multi-domain, Multi-INT ISR Mission Planning, Command & Control, and Exploitation
A scalable operations data fusion center with a modern open architecture and infrastructure that enables collaborative, reliable, and secure mission planning and execution. Its modular design enables the expansion of capabilities to rapidly accommodate future growth requirements while reducing manpower needs across the ISR lifecycle via automation and Artificial Intelligence (AI) capabilities.
The Integrated Intelligence Center (iic) fuses seamlessly with existing C4ISR capabilities – such as sensors data, video and other intelligence products – from Defense and other Government ministries and agencies.
Versatile ISR Ops and PED
At the heart of the iic is GA-ASI's integrated suite of automated mission capabilities, including GA-ASI's STARE (System for Tasking and Real-Time Exploitation) software, MMC (Multi-Mission Controller) software and Metis, a tasking, collection management, and intelligence sharing program. These core products provide a unified intelligence collection and Processing, Exploitation and Dissemination (PED) capability to efficiently consolidate and allocate mission assets throughout the entire ISR lifecycle.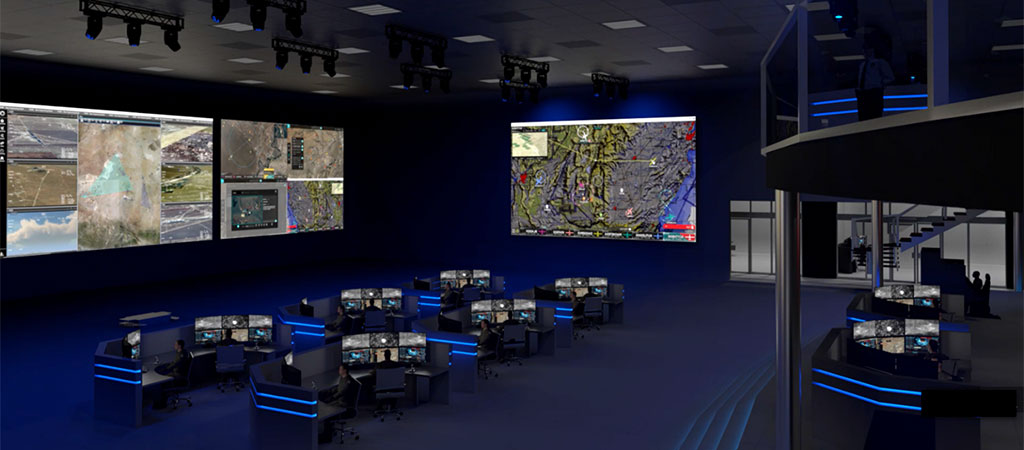 The front wall of the main ops floor contains a large seamless video display to provide a "Big Picture" accessible to the entire command center for shared context among analysts, operators and commanders. The displays show STARE and its common operating picture – a real-time ISR data feed that also captures the location of both manned and unmanned connected customer platforms. This same information can be disseminated to remote users and viewable on smaller formats such as an iPad. The enabling technologies integrate remote sites seamlessly through multi-level secure communications, video-tele communications (VTC), chat and other collaborative tools.
Maximum Operator Effectiveness and Manpower Reduction
The main floor is designed with the operator in mind, emphasizing collaboration by factoring in aspects such as person-to-person sightlines and non-verbal communications critical to decision-making, such as body language and other visual cues. It includes:
Features/Benefits:
Ergonomic Design, Seamless Integration and Automation

Less fatigue and increased manpower efficiency and productivity with less manning

Common "Big Picture" Display, Chat and Sharing Tools, Multi-level Secure Communications

Shared context among analysts, operators and commanders

Robust and Secure Network Architecture and Monitoring

Prevents compromise of sensitive information

Highly Reliable and Redundant Systems

System available as mission dictates