Supplier of the Year Award
GA-ASI annually selects the top one percent (1%) of the supply chain and recognizes them for their outstanding performance and delivering exceptional quality.
Eligibility Criteria:
Quality and On-Time Delivery ratings of 100%
No past due deliveries at time of award
Minimum of twelve (12) monthly deliveries during the award period
Exceptional qualitative assessment
Award
Trophy suitable for lobby display
Recognition in internal & external publicity
Exceptional Supplier Performance Award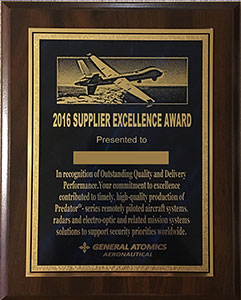 GA-ASI's Exceptional Supplier Performance Award is an annual program that recognizes superior performance within the supply chain. Awardees are typically announced during the first quarter of each calendar year.
Eligibility Criteria:
Quality and On-Time Delivery ratings of >98%
No past due deliveries at time of award
Minimum of six (6) monthly deliveries during the award period
Award
Gold

Plaque suitable for lobby display
Recognition in internal & external publicity

Silver

Recognition in internal & external publicity